ATLAS SALT NEARS FEASIBILITY STUDY FOR
GREAT ATLANTIC SALT PROJECT
St. John's, Newfoundland and Labrador, July 24, 2023 – Atlas Salt (the "Company" or "Atlas" – TSXV: SALT; OTCQB: REMRF; FSE: 9D00), owner of North America's premier undeveloped salt project on the west coast of Newfoundland, is pleased to report that it expects to receive the independent Feasibility Study for the Great Atlantic Project from SLR Consulting (Canada) Ltd. by mid-August 2023. 
Mr. Rowland Howe, Atlas President, commented: "This will be the first Feasibility Study for a project such as this in North America in many years, which underscores how unique Great Atlantic is. More than 30 years in this business has demonstrated to me that this is a highly advantaged asset with the potential to become a globally leading high-grade salt mine of the 21st century."
Mr. Howe added, "I'm also pleased to report significant progress in our CEO search with an important announcement expected with regard to this ahead of our Feasibility Study." 
Corporate Video
For the latest SALT corporate video, visit the Atlas website at www.AtlasSalt.com or click on the following URL: 
https://www.youtube.com/watch?v=UsgbMY6Jy24
Great Atlantic Project Map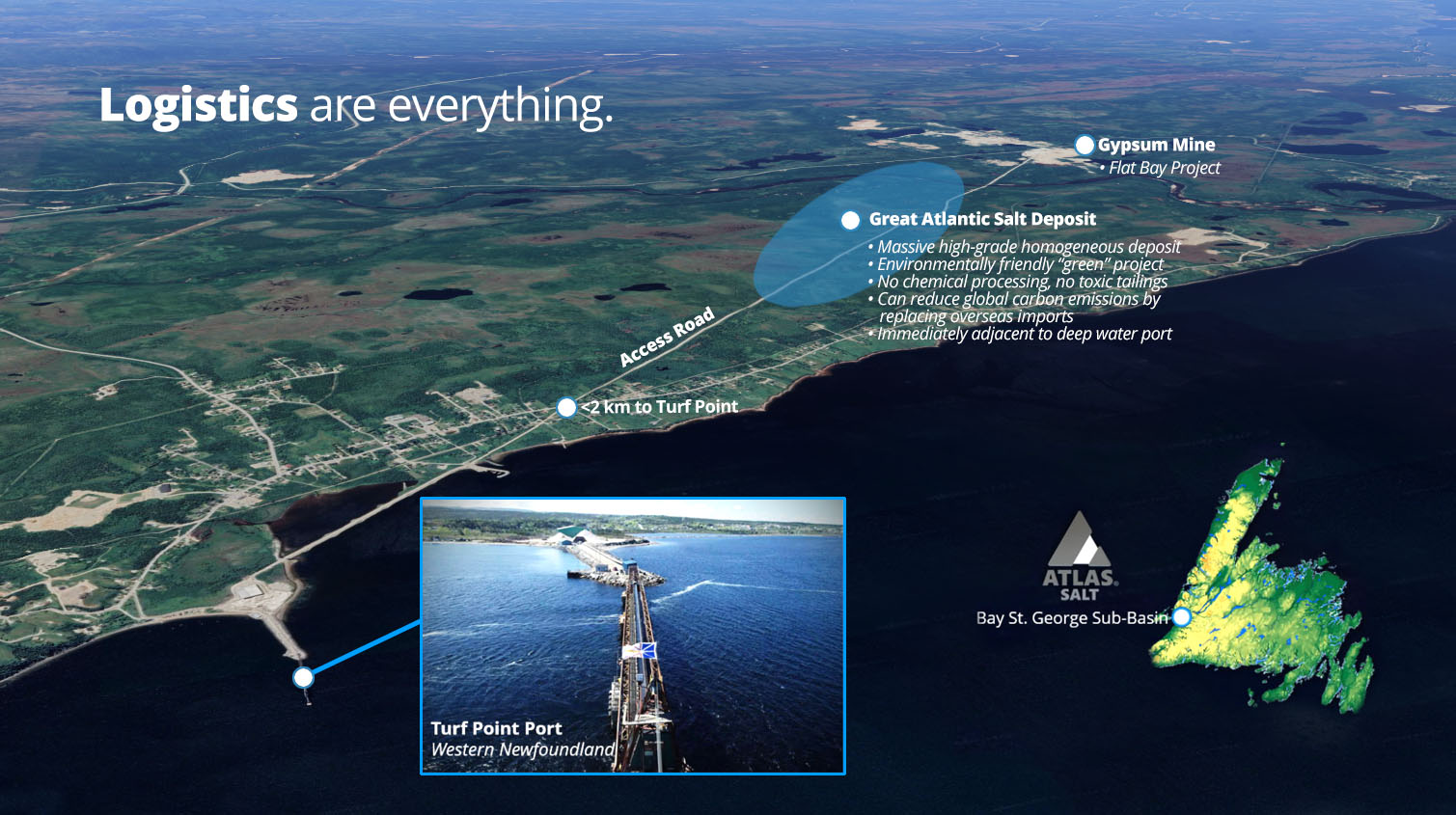 Corporate Presentation
To view the latest Atlas Salt Corporate Presentation, visit the Company's website or click on the following URL:
https://atlassalt.com/AtlasSalt_June25_2023.pdf
Qualified Person
Patrick J. Laracy, P.Geo, and CEO, is the Qualified Person responsible for the technical contents of this news release as defined in National Instrument 43-101.
About Atlas Salt
Bringing the Power of SALT to Investors: Atlas Salt owns 100% of the Great Atlantic salt deposit strategically located in western Newfoundland in the middle of the robust eastern North America road salt market. The project features a large homogeneous high-grade resource located immediately next to a deep-water port. Atlas is also the largest shareholder in Triple Point Resources as it pursues development of the Fischell's Brook Salt Dome approximately 15 kilometers south of Great Atlantic in the heart of an emerging Clean Energy Hub.
We seek Safe Harbor.
For information, please contact:
Patrick J. Laracy, CEO
(709) 754-3186
[email protected]
MarketSmart Communications Inc.
Adrian Sydenham
Toll-free: 1-877-261-4466
Email: [email protected]
Cautionary Statement
Neither the TSX Venture Exchange nor its Regulation Services Provider, (as the term is defined in the Policies of the TSX Venture Exchange) accepts responsibility for the adequacy or accuracy of this release. This press release includes certain "forward-looking information" and "forward-looking statements" (collectively "forward-looking statements") within the meaning of applicable Canadian securities legislation. All statements, other than statements of historical fact, included herein, without limitation, statements relating to the future operating or financial performance of the Company, are forward-looking statements. Forward-looking statements are frequently, but not always, identified by words such as "expects", "anticipates", "believes", "intends", "estimates", "potential", "possible", and similar expressions, or statements that events, conditions, or results "will", "may", "could", or "should" occur or be achieved. Forward-looking statements in this press release relate to, among other things: completion, delivery and timing of the referenced assessments and analysis. Actual future results may differ materially. There can be no assurance that such statements will prove to be accurate, and actual results and future events could differ materially from those anticipated in such statements. Forward-looking statements reflect the beliefs, opinions and projections on the date the statements are made and are based upon a number of assumptions and estimates that, while considered reasonable by the respective parties, are inherently subject to significant business, technical, economic, and competitive uncertainties and contingencies. Many factors, both known and unknown, could cause actual results, performance or achievements to be materially different from the results, performance or achievements that are or may be expressed or implied by such forward-looking statements and the parties have made assumptions and estimates based on or related to many of these factors. Such factors include, without limitation: the timing, completion and delivery of the referenced assessments and analysis. Readers should not place undue reliance on the forward-looking statements and information contained in this news release concerning these times. Except as required by law, the Company does not assume any obligation to update the forward-looking statements of beliefs, opinions, projections, or other factors, should they change, except as required by law.