ATLAS APPOINTS RICK LABELLE AS NEW CEO
St. John's, Newfoundland and Labrador, August 11, 2023 – Atlas Salt (the "Company" or "Atlas" – TSXV: SALT; OTCQB: REMRF; FSE: 9D00), owner of North America's premier undeveloped salt project on the west coast of Newfoundland, is pleased to announce the appointment of Mr. Rick LaBelle as Chief Executive Officer and Director of the Company.
Mr. LaBelle brings a stellar track record of operational expertise and private equity success to the CEO position for Atlas Salt at a transformational moment in the Company's history.
Rick LaBelle Highlights:
40 years' experience in the mining sector (private equity and public markets), including 27 at the executive leadership level;
Has delivered over $5 billion (CDN) in mining consumables and services sales coupled with value creation through a series of game changing M&A transactions by effectively executing key strategic initiatives;
Has partnered with the world's leading private equity firms and originated, negotiated and transformed some of the largest M&A deals in mine services, drilling services, commercial explosives, mining consumables and ground control/support;
Most recently was President and CEO of Dumas Mining from 2017 until his retirement in 2022. Mr. LaBelle was the leader who created the platform and the step change for Dumas' turnaround and subsequent sale to private equity. It is currently one of the largest and most respected underground mine builders in the world;
CEO of Norcast Wear Solutions (2009-2012) which was the world's leading mill line producer, taken private for $87 million (U.S.) and sold within a 3-year period under Mr. LaBelle's leadership for $190 million (U.S.);
Significant owner of Boart Longyear and Group General Manager of Drilling Services for Canadian and International business units (held by Anglo American until 2005) where he was responsible for the management of operations, including the acquisition and integration of several companies in Canada, Brazil, Central America, Russia and Africa.
Mr. LaBelle commented: "I'm delighted to join Atlas Salt. It's a privilege and a rare opportunity in the mining sector to be involved with such a top tier asset as Great Atlantic with the potential to produce profitability for generations, creating a legacy of accomplishment. I'm quickly going to assemble a world class team to advance this tier 1 asset, which will very soon be anchored by an independent Feasibility Study. I have a record of unlocking shareholder value, a key part of my strategy with Atlas Salt."
Mr. Rowland Howe, Atlas President, stated: "In my three decades in the salt sector, I've never seen an opportunity as exciting as this. Rick is the perfect fit and I'm thrilled to be able to work alongside him and the team he's going to build. He's a fourth-generation underground miner who has been involved in one way or another with just about every underground mine in Canada. The skills he learned in private equity, and the network he built, can be leveraged very effectively in the salt sector which has so much private equity involvement. He's a gifted strategist and deal maker."
Mr. Howe added: "I congratulate Patrick Laracy, our founding CEO, on his vision to identify the potential of this project and his successful efforts at getting it to its current position, a great set-up for the next stage of corporate development. Great Atlantic will become a pillar of the Newfoundland resource sector."
In addition to his significant leadership experience, Mr. LaBelle attended Cambrian College's Mining Engineering and Technology Technician program and received a Master's in business administration from Queen's University. He also has an ICD.D designation from the Rotman School at the University of Toronto. He has held roles on several corporate boards over the years including Boart Longyear (Canada), the Ontario Mining Association and Foraco International.
Mr. LaBelle is 58 years old and was born in Hamilton, Ontario.
Chairman Comment
Mr. Patrick Laracy, Chairman of the Board, commented: "I believe Rick's timing is perfect to exercise his leadership and execution skills on a unique asset with significant logistical advantages. He has an impressive track record of success and we expect Great Atlantic will provide him with yet another opportunity to make a very positive impact in the mining industry. Atlas is at a turning point in its evolution from an evaluation-validation stage to project execution."
Mr. Laracy added: "I will exercise certain executive functions to facilitate a seamless transition for Rick and his team. He has already hit the ground running and I look forward to his many accomplishments. His contract with Atlas is built around multiple milestones, so he is very strongly incentivized to deliver results and value for shareholders."
PRmediaNow Interview With New Atlas Salt CEO Rick LaBelle
"This a transformational project, I am absolutely convinced of it." New Atlas CEO discusses his appointment with PRmediaNow's Cyndi Edwards – click on the link below to view.
https://www.youtube.com/watch?v=wxG8qlY3qqQ
SALT Corporate Presentation
To view the latest Atlas Salt Corporate Presentation, visit the Company's website or click on the following URL:
https://atlassalt.com/AtlasSalt_August11_2023.pdf
SALT Great Atlantic Project Map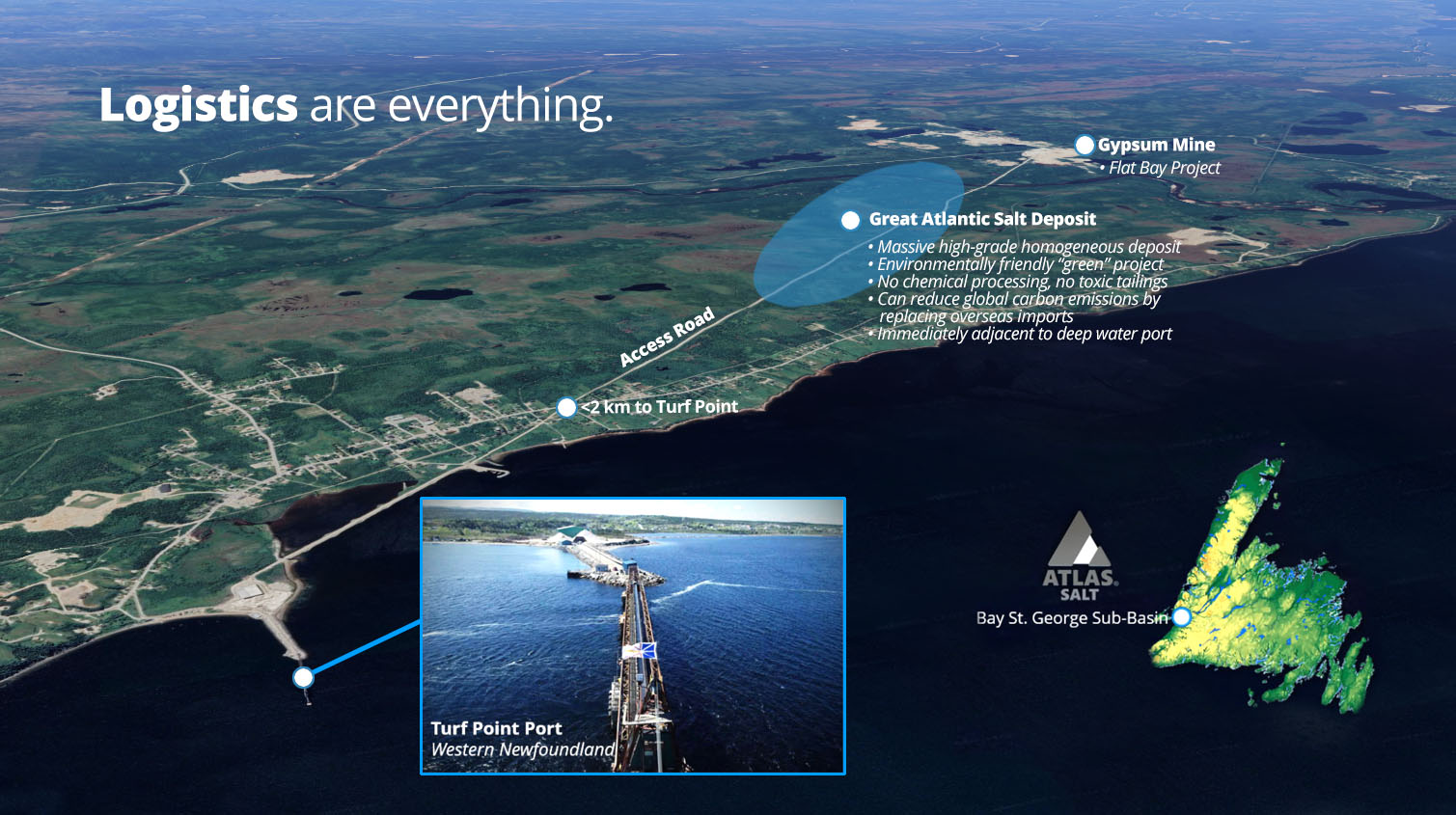 About Atlas Salt
Bringing the Power of SALT to Investors: Atlas Salt owns 100% of the Great Atlantic salt deposit strategically located in western Newfoundland in the middle of the robust eastern North America road salt market. The project features a large homogeneous high-grade resource located immediately next to a deep-water port. Atlas is also the largest shareholder in Triple Point Resources as it pursues development of the Fischell's Brook Salt Dome approximately 15 kilometers south of Great Atlantic in the heart of an emerging Clean Energy Hub.
We seek Safe Harbor.
For information, please contact:
Patrick J. Laracy,
Chairman
(709) 754-3186
[email protected]
MarketSmart Communications Inc.
Adrian Sydenham
Toll-free: 1-877-261-4466
Email: [email protected]
Cautionary Statement
Neither the TSX Venture Exchange nor its Regulation Services Provider, (as the term is defined in the Policies of the TSX Venture Exchange) accepts responsibility for the adequacy or accuracy of this release. This press release includes certain "forward-looking information" and "forward-looking statements" (collectively "forward-looking statements") within the meaning of applicable Canadian securities legislation. All statements, other than statements of historical fact, included herein, without limitation, statements relating to the future operating or financial performance of the Company, are forward-looking statements. Forward-looking statements are frequently, but not always, identified by words such as "expects", "anticipates", "believes", "intends", "estimates", "potential", "possible", and similar expressions, or statements that events, conditions, or results "will", "may", "could", or "should" occur or be achieved. Forward-looking statements in this press release relate to, among other things: completion, delivery and timing of the referenced assessments and analysis. Actual future results may differ materially. There can be no assurance that such statements will prove to be accurate, and actual results and future events could differ materially from those anticipated in such statements. Forward-looking statements reflect the beliefs, opinions and projections on the date the statements are made and are based upon a number of assumptions and estimates that, while considered reasonable by the respective parties, are inherently subject to significant business, technical, economic, and competitive uncertainties and contingencies. Many factors, both known and unknown, could cause actual results, performance or achievements to be materially different from the results, performance or achievements that are or may be expressed or implied by such forward-looking statements and the parties have made assumptions and estimates based on or related to many of these factors. Such factors include, without limitation: the timing, completion and delivery of the referenced assessments and analysis. Readers should not place undue reliance on the forward-looking statements and information contained in this news release concerning these times. Except as required by law, the Company does not assume any obligation to update the forward-looking statements of beliefs, opinions, projections, or other factors, should they change, except as required by law.