Patrick Laracy, LL.B., P.Geo CEO & Director
Mr. Laracy is the founder of the company and has leveraged over $100 million of high risk exploration expenditures through equity and joint venture financings. He is a member of the Professional Engineers and Geoscientists of Newfoundland and Labrador with over 30 years of industry experience in various technical and executive capacities.
Rowland Howe
President & Director
Mr. Howe is a chartered Engineer with an impeccable 30-year background in the salt industry. He was Mine General Manager at Goderich in Ontario from 1995-2011 where he led the expansion to the largest and most profitable salt mine in North America, taking Compass Minerals' (NYSE: CMP) operation from 3.5 million tonnes per year to 7.5 million tonnes – an annual record that has yet to be surpassed. He is currently President of the Goderich Port Management Corporation.
Gillian Russell, CPA-CA
Chief Financial Officer
Ms. Russell has over two decades of accounting, audit and management experience including the roles of controller and manager in the private and public sectors. She holds a chartered professional accounting designation with the Institute of Chartered Accountants of Newfoundland and Labrador.
John Anderson Director
Mr. Anderson, the founder of multiple start-up companies, has three decades of successful corporate and capital markets expertise . He has a wide range of contacts in the resource and investment sectors spanning the globe with direct involvement in most major stock exchanges in North America, Europe and Asia, He is currently President of Purplefish Capital Management, a private investment company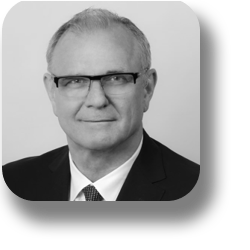 Fraser H. Edison
Director
Fraser has experience in finance, construction, Oil and Gas, and transportation management .He is currently President and Chairman of the Board of Rutter Inc., Chairman of Newfoundland and Labrador Liquor Corporation, and member of the board and governance committee of  Newfoundland and Labrador Hydro.
F. Carson Noel, LL.B., B.Comm
Director
Mr. Noel is a lawyer and business consultant with more than 20 years of experience with exchange listed companies from start-up through exploration and development. He is founding Director and Past President of the Ecuador-Canada Chamber of Commerce.
"It takes the right team to turn a deposit into a mine. Bringing Rowland Howe on board as President of Atlas Salt in early 2021 was a game-changing moment for our company and an important signal to the industry."
Patrick Laracy
CEO, Atlas Salt
Subscribe
Want to be notified about our News. Just sign up and we'll send you a notification by email.